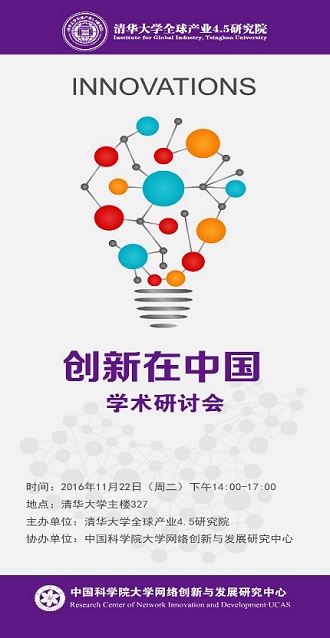 On November 22, 2016, the "Innovation in China" international seminar was co-sponsored by Institute for Global Industry (IGI) of Tsinghua University and Research Center of Network Innovation & Development (CNID) of UCAS in Tsinghua University. Recently, innovation in China has been a growing concern for the international academia, industrial circles and the mainstream media. Therefore, in this seminar, more than 40 experts from home and abroad had in-depth exchanges of views on innovation in China. All the experts came from different organizations, including Ministry of Industry and Information Technology, Chinese Academy of Science and Technology for Development, Tsinghua University, Oxford University, University of Warwick, UCAS, China National Petroleum Corporation, and Tencent. Some focus issues were analyzed and discussed in this seminar, such as characteristics of innovation in China, the path to the future innovation of China.
This seminar was hosted by Prof.Hengyuan Zhu ,who is the vice president of Institute for Global Industry of Tsinghua University. And experts, including Zhijian Hu (president of Chinese Academy of Science and Technology for Development), Jin Chen (professor of Tsinghua University), Xiaolan Fu (professor of Oxford University), Qing Wang (professor of University of Warwick), Guisheng Wu (professor of Tsinghua University and the executive vice director of Chinese Society of Technology Economics ), Bin Fan (vice director of Policies & Regulations Department of Ministry of Industry and Information Technology of the People's of China), Wenkui Zhang (vice director-general of Enterprise Research Institute of the Development Research Center of the State Council), Xiaobing Wang (director of Tencent Research Institute) and Jiang Yu (professor of the School of Public Policy and Management of UCAS and the executive director of CNID) gave their own opinions and analyzed the history, current situation and the future trend of Chinese innovation from multiple perspectives, such as national policy, global economic development, financial investment, nation brand, industrial R&D and innovative culture. Every expert has noticed that Chinese innovation is showing some new features in the context of dramatic change and huge transformation in the field of economic, social, technological, political and so on. Because of this context, we should think about how to explore the path of Chinese innovation in the future and how to effectively enhance the global competitiveness of China's companies.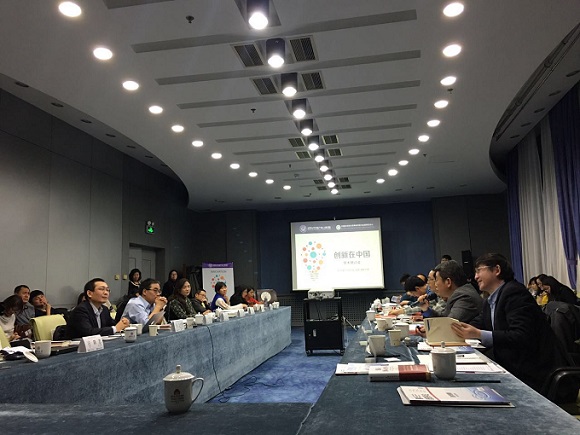 (Full scene of the seminar)
At this seminar, Prof. Jiang Yu, the professor of the School of Public Policy and Management of UCAS and the executive director of CNID, delivered a plenary speech entitled "Digital Innovation: New Opportunity of Chinese Innovation". He pointed out that unprecedented opportunities and challenges of Chinese innovation and development are emerging with digital technologies which are 'always online'. We should make good use of the rapid penetration of new generation of information technologies and the exponential value growth of the massive user base. In addition, by taking advantage of digital revolution, we can make a breakthrough to establish new architectures for society, technology and innovation, and constantly promote the international competence of China in global innovation system.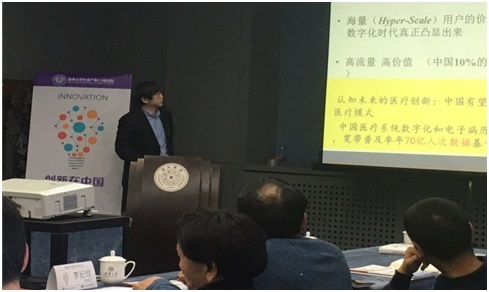 (Prof. Jiang Yu was giving the presentation)